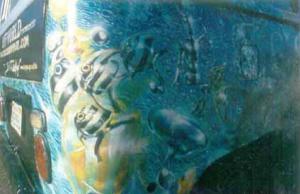 On FAA, Magicvan3000 group will be used to aggregate anyone's artwork of this 1971 VW Van driven in Southern California 20 years ago. See history and purpose sections here below.

Magicvan3000.COM is deployed in August 2019. In 2019 on Magicvan3000.COM, it will be possible to pre-order the upcoming book Transparent SPI - a howto book to inspire entrepreneurs and artists to stay focus on their purpose and always plan and schedule themselves 20 years ahead.

Later in 2020 from Magicvan3000.COM, it will be possible to buy audio and video software apps for Music artists, Music producers, DJs, VJs as well as for Musical event producers.

HISTORY

The Offworld Technologies Corporation promotional vehicle magicvan3000 was a 1971 VW bus driven around in California USA between 1997 and 2001 by Offworld Technologies Corporation's CXO Stephane Poirier – SPI or simply spi.

In 1999, after the Offworld Multimedia Art Gallery event in Santa Barbara, André Labbé, highly talented set and scenic painter from Montreal, Quebec in Canada coated the clean-dipper color 1971 VW surfmobile painting a robot organic fractal ocean texture.

At the question, often thrown by police officers performing driver checks, 'What is your vehicle color?', I would always reply, 'Ocean', 'Ocean Color'.

The magicvan3000's scenic paint coat is called Oceanware (Offworld Technologies's Oceanware). According to André Labbé's design, the magicvan3000's paintjob artist, this underwater visual seeds the whole magicvan3000's scenic paint. Genese genesis générant the whole Offworld Technologies Corporation's Oceanware.

For spi, the driver, this back right side of the van earned a driver's caress after each engine temperature check. And god knows, there has been many engine temperature checks for four VW engines were blown in this four years time frame and the engines were literally drinking 'oil'.

Offworld Technologies Corporation, nowadays OIFII.ORG and HumanAware.ORG, operates from downtown Montreal, QC, Canada. Santa Barbara, California based Human Aware Corporation could possibly return in operation sometimes during 2020/2021.

PURPOSE:

So the purpose of this site is for aggregating photographs, films, videos, text, e-books, paintings, sculptures and ideally 3D prints of the magicvan3000 as it has been designed and executed in co-creation by André Labbé and Stéphane Poirier out in beautiful Santa Barbara, California, USA in 1999.

For one source of digital content, KEYT NewsChannel 3, Santa Barbara, CA, an ABC-affiliated television station, has some footage of the magicvan3000, because it made the local news out there in those days.

If you have seen the magicvan3000 and/or you have digital content derived from it, please submit your footage and/or digital content to the address in the contact section of the magicvan3000.com website at https://www.magicvan3000.com/contact/.